Dear Visitor
I am delighted to have this opportunity to welcome you to the St Paul's website which I hope offers you a brief glimpse of what life is like in St Paul's.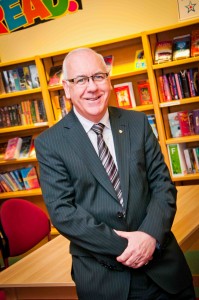 St Paul's is a very special school that can offer an attractive and dependable education to every child in a family no matter what their educational achievement up to now.  Boys and girls can attend the same school and learn to grow and respect each other during their teenage years in preparation for a successful adult life.  St Paul's values the entire child and seeks to look after not just their educational attainment but also their physical, moral and spiritual well being.  For the academically gifted we offer a huge range of post-16 courses and an excellent gateway to third level education in universities both within the island of Ireland and also abroad.  St Paul's graduates today span the entire globe in a wide range of exciting and rewarding careers.  For those whose interests and talents are concentrated elsewhere our wide range of courses offer endless possibilities for other careers, trades and professions.
St Paul's is above all else a caring school, very proud of its young people, with a dedicated staff constantly seeking to expand and improve on the facilities and opportunities that already exist for our pupils.  The great strength of St Paul's lies in its strong, active relationship with our surrounding community and it greatly appreciates the support from all the families and townlands that entrust their young adults to our care.
St Paul's is much more than a school.  It is a focal point within South Armagh and South Down that has always been associated with a quality and a caring education.  The countless past pupils of St Paul's who speak so fondly and so proudly of their association with the school on their return with their own children is the best recommendation and guarantee I can give you for your child's future.
I encourage you to have a look at our webpages and savour the wide range of activities which are enjoyed in St Paul's, as well as the academic curriculum that is on offer and then come along and visit our new state of the art facilities.
Thank you for taking the time to visit our website and I look forward to meeting you individually in the near future.
Yours sincerely
Oliver Mooney
Principal
Email: omooney868@stpauls.bessbrook.ni.sch.uk 

Oliver Mooney is Northern Ireland Head Teacher of the Year.  Click here to read more about Mr Mooney's award.