Websites for Recommended Reads
and Book Reviews

4uReaders.net                                    www.4ureaders.net
Betty Bookmark                                 www.bettybookmark.com
TheBookbag                                         www.thebookbag.com
Bookbox                                                www.channel4.com/bookbox
Bookheads                                            www.bookheads.org.uk
Carnegie and Kate Greenaway Awards    www.carnegiegreenaway.org.uk
Children's Authors TV                          www.childrensauthors.tv
Children'sBookSequels                        www.childrensbooksequels.co.uk
Children'sPoetryBookshelf               www.children'spoetrybookshelf.co.uk
Comic Book Resources                      www.comicbookresources.com
Cool Reads                                              www.cool-reads.co.uk
Encompass Culture (British Council)  www.encompassculture.com
Great Book To Read Aloud                  www.greatbookstoreadaloud.co.uk
International Children's Digital Library  www.icdlbooks.org
Just For Kids Who Love Books            www.alanbrown.com
Kid's Review                                               www.kidsreview.org.uk
Love Reading 4 Kids                               www.lovereading4kids.co.uk
Mrs Mad's Book-a-Rama                      www.mrsmad.com
Reading Matters                                     www.readingmatters.co.uk
Stories From The Web                         www.storiesfromtheweb.org
Teen Reads                                               www.teenreads.com
 For Teenagers
Chicklish                                           http://keris.typepad.com/chicklet/
The B Word                                      http://www/the-b-word.co.uk/
Spinebreakers                                  http://www.spinebreakers.co.uk
Groupthing                                        http://groupthing.org
Reading Rants                                  http://wwwreadingrants.org/
Teen Ink                                            http://teenink.com/Books/
LoveReading                                     http://www.lovereading.co.uk/newgeneration
The eight nominated books for the
Drewett Book Award 2013
Christopher Edge,  Twelve Minutes to Midnight
Penelope Tredwell is the feisty thirteen-year-old orphan heiress of the bestselling magazine The Penny Dreadful. Her masterly tales of the macabre are gripping Victorian Britain, even if no one knows she's the real author. One day a letter she receives from the governor of the notorious Bedlam madhouse plunges her into an adventure more terrifying than anything she ever imagined. A thriller with a fast-paced cinematic style, Twelve Minutes to Midnight is an electrifying story from an exciting new author.
Lissa Evans,        Small Change for Stuart
Stuart Horten – ten years old and small for his age – moves to the dreary town ofBeeton, far away from all his friends. And then he meets his new next-door neighbours, the unbearable Kingley triplets, and things get even worse.
But in Beeton begins the strangest adventure of Stuart's life as he is swept up in quest to find his great-uncle's lost workshop – a workshop stuffed with trickery and magic. There are clues to follow and puzzles to solve, but what starts as fun ends up as danger, and Stuart begins to realize that he can't finish the task by himself…
R J Palacio,     Wonder
Wonder is the funny, sweet and incredibly moving story of Auggie Pullman. Born with a terrible facial abnormality, this shy, bright ten-year-old has been home-schooled by his parents for his whole life, in an attempt to protect him from the stares and cruelty of the outside world. Now, for the first time, Auggie is being sent to a real school – and he's dreading it. The thing is, Auggie's just an ordinary kid, with an extraordinary face. But can he convince his new classmates that he's just like them, underneath it all?
Through the voices of Auggie, his big sister Via, and his new friends Jack and Summer, Wonder follows Auggie's journey through his first year at Beecher Prep. Frank, powerful, warm and often heart-breaking, Wonder is a book you'll read in one sitting, pass on to others, and remember long after the final page.
Simon Mayo,   Itch
Meet Itch – an accidental, accident-prone hero. Science is his weapon. Elements are his gadgets. This is a hero with Geek Power!
Itchingham Lofte – known as Itch – is fourteen, and loves science – especially chemistry. He's also an element hunter: he's decided to collect all the elements in the periodic table. Which has some interesting and rather destructive results in his bedroom..Then, Itch makes a discovery. A new element, never seen before. At first no one believes him – but soon, someone hears about the strange new rock and wants it for himself. And Itch is in serious danger…
Sally Nicholls,    All Fall Down
When Isabel'sYorkshire village is devastated by the Black Death, it seems that the world is ending in horror and fear. But for the survivors of the terrible plague, a new and freer society will rise from the destruction of the feudal system that enslaved the family. A powerful historical novel from one of today's most exciting young writers.
Caroline Lawrence,  The Case of the Good Looking Corpse
P K Pinkerton is back in the second book of this whip-crackingly brilliant series set inAmerica's Wild West.
The death of sadistic desperado Whittlin Walt has created an opening for 'Chief of the Comstock Desperados'. Several young gunfighters are battling it out in the saloons and streets ofVirginia City, and against this backdrop of gunmen, gamblers and cowboys, P K Pinkerton, private eye, is having trouble drumming up business. Nobody seems to take a 12-year-old detective seriously!
Then a servant girl named Martha begs P K for help. She witnessed the murder of her mistress – a hurdy girl – and the killer knows it. Now he is after her. Martha gives P K a description of the killer and a cryptic clue, but then she disappears. Can P K solve the case and find Martha before the killer does?
Andrew Taylor,     The Adjusters
Welcome toNewton, the perfect town… Where kids get perfect grades… And everyone seems perfectly happy – all the time… Except newcomer Henry Ward isn't buying it. With a pair of misfit friends, he's determined to expose the dark secrets lurking behindNewton's bright facade. But asking questions aboutNewtonand the corporation that owns it can be dangerous. The doctors in the sinister medical centre on the hill have a procedure called "adjustment" for kids who don't fit in… And Henry and his friends have just gone to the top of the waiting list.
J D Sharpe,     Oliver Twisted
"Flesh," the woe-begotten moaned at Oliver, baring teeth which were ragged and black. "Flesh" came another moan, and he turned to see two more behind. They began to shuffle towards him, barefoot. The world according to Oliver Twisted is simple. Vampyres feed on the defenceless, orphans are sacrificed to hungry gods and if a woe-begotten catches your scent it will hunt you forever. On the advice of a corpse, Oliver flees his ghastly orphan life to seek his destiny in the dark streets of oldLondonTown, despite the perils of the woe-begotten zombie-infested journey. There he meets the shadowy Dodger, the evil old soul-stealer Fagin, and the menacing Bill Sikes, who is more beast than man. But will Oliver Twisted be the world's salvation, or its downfall?!
DREWETT SHORTLIST

2012

Paul Dowswell,     Sektion 20                        Bloomsbury. 9781408808634

Alex lives inEast Berlin. The cold war is raging and he and his family are forbidden to leave. But the longer he stays the more danger he is in. Alex is no longer pretending to be a model East German, and the Stasi has noticed. They are watching him. Alex is told that further education will be blocked to him. His summer job is mysteriously cancelled, and friends begin avoiding him. His parents start to realise that leaving the East may be the only option left to them, but getting across the Wall is practically impossible. And even if Alex and his family make it to the other side, will they be able to escape the reach of the Stasi? This is a tense, page-turning thriller that builds towards a terrifying showdown as powerful forces from the East and West converge. One false move will change everything for Alex and his family, for ever.

Charlie Fletcher,    Far Rockaway          Hodder. ISBN: 9780340997321

Cat Manno and her grandfather Victor made a pact that one day, just for the hell of it, they take the subway and stay on the A-train until the very end of the line where the last narrow spit of land runs out into the ocean at Far Rockaway. This isnt that day.
On the first page Cat is knocked down by a speeding fire truck whilst crossing55th St and3rd Ave inCentral Manhattan. She wakes up in a world made from all the books her grandfather used to read to her, peopled by some of the most memorable heroes of classic adventure fiction, brought vividly back to life. Cat must earn their friendship and help as she begins an odyssey and epic quest to find the mythic Castle at the World End. And the name of that distant, mythic, wave-tumbled fastness? It is, of course, thecastle ofFar Rockaway…

Eva Ibbotson, One Dog and his Boy                Marion Lloyd Books

All Hal had ever wanted was a dog. "Never!" cries his mother. "Think of the mess, the scratch-marks, the puddles on the floor." But on the morning of Hals 10th birthday, the unbelievable happens. He's allowed to choose a dog at Easy Pets, a rent-a-pet agency (a fact his parents keep from him). The moment he sees the odd-looking terrier, he knows he's found a friend for life. But no one tells Hal that Fleck must be returned. When Hal wakes up on Monday morning, Fleck is gone. If dog and boy are to stay together they will have to run away…

Barbara Mitchelhill,   Run Rabbit Run    Andersen Press. 9781849392495

When Lizzie's dad refuses to fight in the Second World War, the police come looking to arrest him. Desperate to stay together, Lizzie and her brother Freddie go on the run with him, hiding from the police in idyllic Whiteway. But when their past catches up with them, they're forced to leave and it becomes more and more difficult to stay together as a family. Will they be able to? And will they ever find a place, like Whiteway, where they will be safe again?

Chris Morphew,        Arrival                            Scholastic. ISBN: 9781407124629

Luke is having a rough year. When his parents split up, his mum drags him to Phoenix, a brand-new town in the middle of nowhere. But Phoenixis no ordinary town. There are no cars, no phones and no internet. Luke thinks this is as weird as it gets. Then he discovers that someone is plotting to wipe out the human race. Phoenixis suddenly the safest and most dangerous place on earth. One hundred days remain until the end of the world… not something Luke thought would ever be his problem.

Ali Sparkes,   A Life and Death Job                      Oxford 9780192756060

A group of special teenagers, each with an incredible power. They live together and learn how to use their abilities, protected from those who wish to harm them. Now, for one short week they are let out into the world, with strict instructions that they must not use their powers. But good intentions are easy… following them through is a different matter. For Lisa, every day is about life and death. Because she can hear dead people talking, and they just won't leave her alone. But on a trip toLondonit's the living who need her help. Someone is kidnapped and this time Lisa knows she has to help, even though it means walking into mortal danger. Now Lisa is in fear for her own life is there anyone to help her?

David Walliams,  Gangsta Granny               HarperCollins 9780007371440

A story of prejudice and acceptance, funny lists and silly words, this book has all the hallmarks of David Walliams's previous bestsellers.
Our hero Ben is bored beyond belief after he is made to stay at his grandma's house. She's the boringest grandma ever: all she wants to do is to play Scrabble, and eat cabbage soup. But there are two things Ben doesn't know about his grandma.
1) She was once an international jewel thief.
2) All her life, she has been plotting to steal the crown jewels, and now she needs Ben's help…

Chris Westwood,  Ministry of Pandemonium         Frances Lincoln

When Ben Harvester meets the mysterious Mr October inHighgateCemetery, nothing could have prepared him for the strange and dramatic turn his life is about to take. Soon Mr October is leading him towards his true calling – his work at the Ministry of Pandemonium, helping to guide the dead to the afterlife. But Ben quickly discovers that there are terrifying forces keen to thwart the work of the Ministry and lead the newly-dead astray. And when Ben's mum suddenly becomes seriously ill, he questions whether he can continue with the important job he has been given.

Here's what we are reading at St Paul's ……………. 
1.  An Elephant in the Garden
by Michael Morpurgo

A thrilling and moving new novel about an extraordinary animal caught up in a very human war, for anyone who loved The Amazing Story of Adolphus Tips or The Butterfly Lion…
It's 1944. Elizabeth's father is fighting with the German army on the eastern front. Her mother works at Dresden zoo, where her favourite animal is a young elephant named Marlene. When the zoo director tells her the dangerous animals must be shot to prevent them running amok if the town is bombed, Elizabeth's mother moves Marlene into the back garden to save her… and then the bombs start to fall.
Their home destroyed, Elizabeth and her family must flee the bombed-out city and through the wintery landscape, all the while avoiding the Russian troops who are drawing ever closer. It would be hard enough, without an elephant in tow…
2. Young Samurai: The Ring of Earth
by Chris Bradford  (winner of the NI Book Award)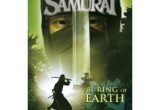 JACK FLETCHER IS ON THE RUN
With no sensei to guide him, he has just his wits and his swords against many new and unknown enemies, as he journeys along the treacherous road to the port of Nagasaki and perhaps home…
But the Shogun's samurai are hot on his trail. Barely escaping their clutches, Jack runs headlong into a trap. Kidnapped by ninja and led to their village deep in the mountains, Jack has no means of escape.
The only question is who will kill him first – the ninja or samurai?
3. TimeRiders: Day of the Predator (Book 2)
 

by A Scarrow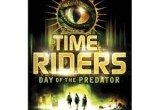 Liam O'Connor should have died at sea in 1912.
Maddy Carter should have died on a plane in 2010.
Sal Vikram should have died in a fire in 2029.
But all three have been given a second chance – to work for an agency that no-one knows exists. Its purpose – to prevent time travel destroying history . . .
When Maddy mistakenly opens a time window where and when she shouldn't have, Liam is marooned sixty-five million years ago in the hunting ground of a deadly – and until now – undiscovered species of predator. Can Liam make contact with Maddy and Sal before he's torn to pieces by dinosaurs – and without endangering history so much that the world is overtaken by a terrifying new reality?
4. Diary of a Wimpy Vampire: The Undead Have Feelings Too
by Tim Collins

Like Edward Cullen in "Twilight", Nigel Mullet was transformed into a vampire when he was still a teenager, and will remain this age forever. Unfortunately, Nigel became a vampire at the awkward age of fifteen, and must spend eternity coping with acne, a breaking voice, and an ineptitude with girls . . . In this, his excruciatingly funny diary, Nigel chronicles his increasingly desperate attempts to be noticed by the love of his life, Chloe Sparrow, the constant mortification caused by his vampire parents (not to mention the worry that they might accidentally eat one of his friends), and the frustration one feels when you ve got the whole of boring eternity stretching out in front of you…
5. Withering Tights 

by Tallulah Casey

The misadventures of Tallulah Casey…
Hilarious new series from Queen of Teen – laugh your tights off at the (VERY) amateur dramatic antics of Talullah and her bonkers mates. Boys, snogging and bad acting guaranteed!
Picture the scene: Dother Hall performing arts college somewhere Up North, surrounded by rolling dales, bearded cheesemaking villagers (male and female) and wildlife of the squirrely-type.
On the whole, it's not quite the showbiz experience Tallulah was expecting… but once her mates turn up and they start their 'FAME! I'm gonna liiiiive foreeeeeever, I'm gonna fill my tiiiiights' summer course things are bound to perk up. Especially when the boys arrive. (When DO the boys arrive?)
Six weeks of parent-free freedom. BOY freedom. Freedom of expression…
cos it's the THEATRE dahling, theatre!!
6. Unhooking the Moon

by Geoffrey Hughes

Meet the Rat: A dancing, football-playing gangster-baiting ten-year-old. When she foresaw her father's death, she picked up her football and decided to head for New York. Meet her older brother Bob: Protector of the Rat, but more often her follower, he is determined to find their uncle in America and discover a new life for them both. On their adventures across the flatlands of Winnipeg and through the exciting streets of New York, Bob and the Rat make friends with a hilarious con man and a famous rap star, and escape numerous dangers. But is their Uncle a rich business man, or is the word on the street, that he something more sinister, true? And will they ever find him? Hughes has created a funny, warm, unique world that lives and breathes. Like I Capture the Castle, Breakfast at Tiffany's, The Curious Incident, Hughes' story and characters will resonate for many and for years to come.
7. Chocolate Box Girls: Cherry Crush
by Cathy Cassidy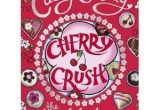 Cherry Costello's life is about to change forever. She and Dad are moving to Somerset where a new mum and a bunch of brand-new sisters await. And on Cherry's first day there she meets Shay Fletcher; with suntanned skin and sea-green eyes he's the kind of boy who should carry a government health warning.
But Shay already has a girlfriend, Cherry's new stepsister, Honey. Cherry knows her friendship with Shay is dangerous – it could destroy everything. But that doesn't mean she's going to stay away from him…
8. SOS Adventure: Ice Quake
by Colin Bateman

When danger threatens, call SOS! Packed with excitement and adventure, this will appeal to boys – and girls – everywhere.
9. The Kane Chronicles: The Red Pyramid
by Rick Riordan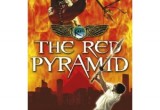 Percy Jackson fought Greek Gods. Now the Gods of Egypt are waking in the modern world…
'I GUESS IT STARTED THE NIGHT OUR DAD BLEW UP THE BRITISH MUSEUM . . .'
CARTER AND SADIE KANE'S dad is a brilliant Egyptologist with a secret plan that goes horribly wrong. An explosion shatters the ancient Rosetta stone and unleashes Set, the evil god of chaos . . .Set imprisons Dr Kane in a golden coffin and Carter and Sadie must run for their lives. To save their dad, they embark on a terrifying quest from Cairo to Paris to the American South-west and discover the truth about their family's connection to the House of Life: an Egyptian temple of magic that has existed for thousands of years.The pharaohs of ancient Egypt are far from dead and buried. And so, unfortunately, are their gods . . .
10. The Dead

by
Charlie Higson

A terrible disease is striking everyone over the age of fourteen. Death walks the streets. Nowhere is safe. Maxie, Blue and the rest of the Holloway crew aren't the only kids trying to escape the ferocious adults who prey on them. Jack and Ed are best friends, but their battle to stay alive tests their friendship to the limit as they go on the run with a mismatched group of other kids – nerds, fighters, misfits. And one adult. Greg, a butcher, who claims he's immune to the disease. They must work together if they want to make it in this terrifying new world. But as a fresh disaster threatens to overwhelm London, they realize they won't all survive