Drama Club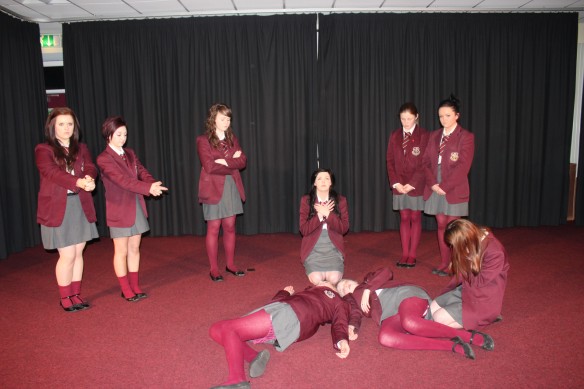 The Drama Club is run by the Drama teachers with the help of the mentors who also study Drama at AS level in Year 13.  Everyone is welcome to the Drama Club, it is held after school. There is a great deal of improvisation as well as games, movement, etc. which sometimes leads to a performance of work completed.
All students at Key Stage Three and those selecting Drama as a GCSE option experience a planned framework which provides appropriate experiences to develop their Drama skills and skills which they are then able to apply to all the curricular areas: speaking, listening, contributing, responding, organising, being organised, empathising, putting across a viewpoint, sensitivity to an issue, selecting material, research, problem solving, confidence, planning, working in a group, meeting deadlines, supporting, developing language and vocabulary, appraising and appreciation.
The Drama Department at St. Paul's High School aims to enable all students of Drama to be expressive, confident, self motivating and participatory.
It is recognised that experience of Drama leads to:
1. Improved communication skills
2. Increased reading and comprehension skills
3. Increased empathy and tolerance
4. Increased social relationship
5. Increased self confidence
With this in mind the Drama curriculum which follows is structured to enable all students to participate and achieve progress.
The Drama Club seeks to extend the experiences and opportunities for both the social and the elite performer and provide an opportunity for 'showcase' drama presentations to parents and our wider school community.
St. Paul's High School has a major drama production every two years and the Drama Club is perfect for building confidence and ability in potential cast members. The School Production is always a musical and alternates between genres.  The Drama, Music and Dance Department are involved in the rehearsal process which is always great fun and worthwhile.
Rehearsals take place after school and on Saturdays and sometimes Sundays during the Autumn Term with performances at the end of the term. These are hugely successful. These productions involve between 60 and 70 students who build up a very strong sense of team and commitment with the staff involved as well.
The photographs include the cast of Oklahoma performed in St. Paul's High School in October 2008. Other photographs include Drama Club Members in Drama Workshops.
The Drama Club is a perfect way for students to make new friends and discover their own personal abilities through Drama.  Personal development is an important area in the life of a student in St. Paul's High School and Drama provides a strong foundation for communication and teamwork.