Drama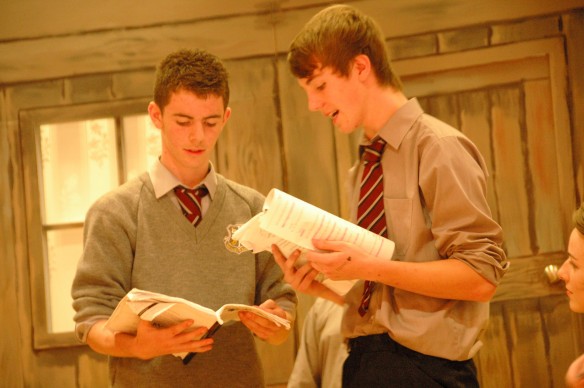 This picture is from Fiddler on the roof the last school production which was in October 2010 
_
Departmental Staff
_
Head of Department:
Ms P Lynch
_
Curriculum
Key Stage 3 (Years 8, 9 & 10)
_
The Northern Ireland Curriculum aims to empower pupils to achieve their potential and to make informed and responsible choices and decisions throughout their lives. It is about helping all pupils prepare for life and work:
1. As individuals
2. As contributors to society
3. As contributors to the economy and environment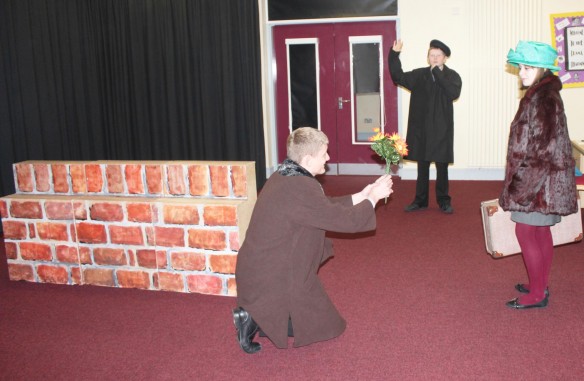 Key Stage 3 Pupils rehearsing in Drama class
_
_
Why drama in schools?
The arts make us feel connected to one another and less isolated. Through the arts we share an emotion and that sharing connects us with each other and we realise we all feel the same emotions. The arts are our last hope. We find our identity and make it easier and more pleasurable to live and they also give us wisdom. We see our problems acted out and it's an important socialising force.
Arthur Miller (playwright and director)
_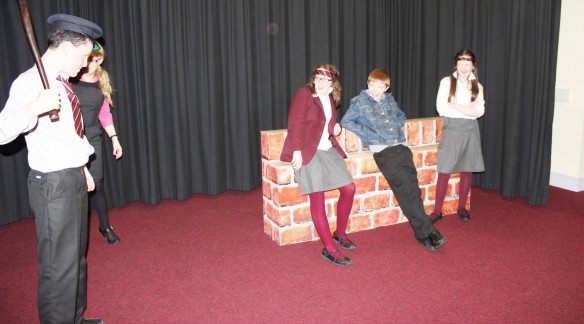 Key Stage 3 Pupils during Drama class
_
Drama in St. Paul's High School
Drama is artistic, a practical activity and an intellectual discipline. Drama education, which begins naturally with learning through dramatic play, will eventually include many elements of theatre. Like the other arts, it involves imagination and feelings and helps us to make sense of the world. It does this through the creation of imagined characters and situations, and the relationships and events that they encounter.
Through engagement in drama, pupils apply their imaginations and draw upon their own personal experiences. Their increasing knowledge and understanding of how the elements of drama work enables them to effectively shape, express and share their ideas, feelings and responses, making use of language, space, symbol, allegory and metaphor. Good drama teaching will result in pupils learning about dramatic form and the content it explores.
Units of study in Drama at St Paul's High School provide a clear framework for pupils' progression and they integrate with whole school assessment practices to help students achieve the highest possible standards in drama.
The study of Drama in St Paul's High School is enhanced by the use of ICT as an integral part of the schemes of work.  The Revised Curriculum has provided for self-management, effective communication using ICT and the effective working with others.
Drama schemes of work are differentiated to take account of pupils' differing abilities. They also take account of examination requirements.
Students are not formally assessed at Key Stage 3, They do, however, complete Assessment Requirements in line with school policy.
__
GCSE (Years 11 & 12)
_
GCSE Drama (AQA Specification) covers a wide range of performance and related skills.
The course content allows students to realise their full potential in many areas.  The course contains engaging content and is manageable for St Paul's High School.  The course is accessible to students of all levels of ability and leads to accurate results.
Students can develop an insight into and an understanding of a wide range of activities. Drama is an exciting, creative and challenging course and has been designed to help candidates meet those challenges.
The balance between the assessment tasks and the written examination gives students the best opportunity to succeed.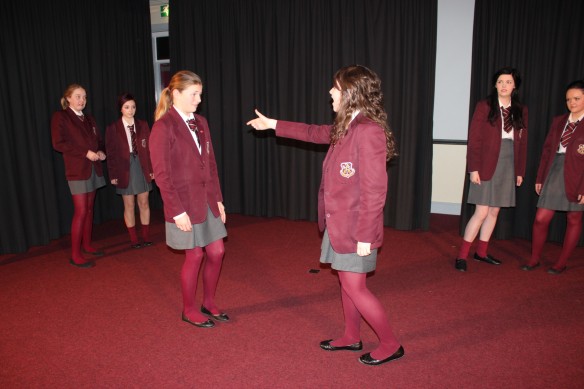 Some GCSE Drama action at St Paul's 
In order to allow more freedom of choice, the requirement for candidates to present some performance work has now been lifted.
Candidates are free to choose any of the controlled assessment options offered in our specification.
These include:
Devised Thematic Work
Acting, Improvisation
Theatre in Education
Physical Theatre
Set Design
Costume
Make-up
Properties
Masks
Puppets
Lighting
Sound
Stage Management
The written part of the controlled assessment has now been removed. Assessment for the controlled assessment takes into account the student's contribution during the preparation period as well as their final performance or design.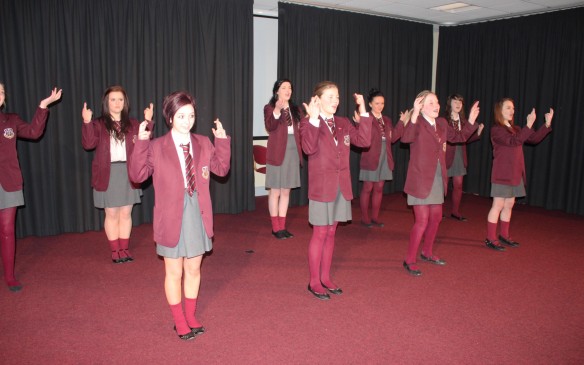 GCSE Drama students in performance 
A Level (Years 13 & 14)
_
A Level Drama (AQA Specification) Students can pursue their interests and develop their skills in a range of practical drama elements including acting, directing, costume, setting, maskand technical design. However, the requirements of the specification, with its 60% written paper weighting, also enable students to gain an entry qualification for courses in higher education, whether in the area of drama and theatre studies or in a host of other subjects.
The specification offers students the freedom to choose both the content and the form of their practical presentations at each level. At AS, candidates perform an extract from any play selected to illustrate their understanding of an influential director, designer, theatre company or other practitioner. At A2, candidates devise drama on any topic to be performed.
AS
Unit One, Section A, students will learn how to appreciate live theatre and how to write about their experiences of live productions purposefully.  Unit One, Section B, students will learn about one of the six set plays and prepare write, with a practical focus, about how they might interpret aspects of the chosen play in production.
Unit Two, the content of the course is also straightforward; students will learn about an influential theatre practitioner or to facilitate their own research into a practitioner of their choice. Students will be guided in their selection of a play text that is appropriate to the theatrical purpose and methods of that practitioner.
Students will acquire and refine the necessary skills to achieve successful presentations in these different styles of theatre.
 A2
Unit Three builds upon the skills that students have acquired at AS. Students will study two further set texts, each selected from a list of six. Students will be guided to adopt a creative overview of each of these texts and for Section B, to prepare to envisage a complete stage realisation of the play in production.
Unit Four at A2, will extend their practical theatrical skills, encouraging them to develop as devisers. They will be guided to research into, a specific theatrical style and this will enable them to progress from being interpreters of text to becoming creators of original drama.
ICT will be used for research and presentation purposes. Students will read a selection of books relating to theatrical practitioners, styles and genres and the importance of theatre.  This will enable students to build upon existing skills and deepen their knowledge and understanding of their own abilities and the importance of performance in theatre.
Below is an example of a GCSE Drama performance.
Video 1: The Crucible – Meet the Cast
Video 2: The Crucible – The Highlights