Irish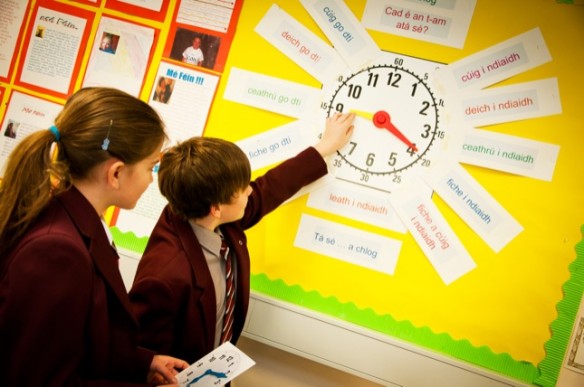 Departmental Staff
_
Head of Department: Miss C McCoy
Mr J Burns
Mr D Murray
Mrs N Murray
Mr S Quinn
Curriculum
Key Stage 3 (Years 8,9 & 10)
Irish at Key Stage 3 covers a wide range of topics in accordance with the Northern Ireland Curriculum.  The focus in the Department is on spoken language and students are actively encouraged to speak Irish both inside and outside of the classroom.
Students get the opportunity in Key Stage 3 to achieve the 'cúpla focal' badge and their 'silver fáinne'. Most students study Irish for two periods a week in year 8 and three periods a week in year 9 and 10.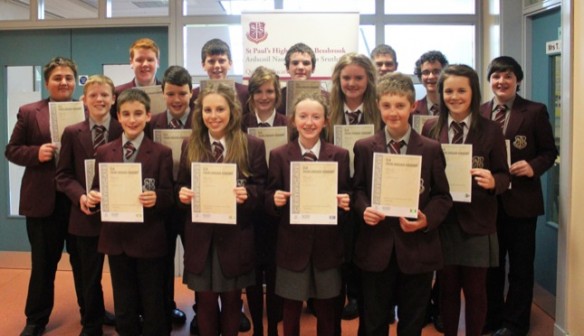 Year 10 Irish students at St Paul's High School who completed the Level 2 OLA examination in Irish, presented with their certificates by CCEA.
_
GCSE
_
GCSE Irish is very popular in St. Paul's.  Normally there are two classes studying Irish in both year 11 and Year 12.  We also offer a twilight GCSE Irish option for students who cannot study Irish due to time restrictions on their timetable and for students in Key Stage 3 from an Irish medium background.
Students complete 60 % of their exams over the two year period by completing Controlled Assessments in writing and speaking.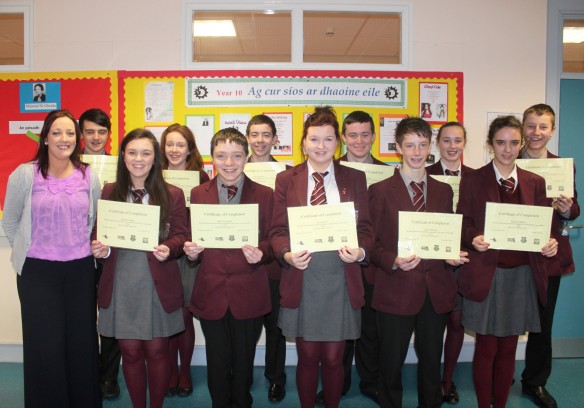 Year 12 GCSE Irish students completing a 10 week online Irish course at St Paul's.
_
A Level  - AS/A2
_
Every year, students in St. Paul's have the option of studying Irish at AS and A2 Level.  We collaborate with St. Joseph's Crossmaglen and students from St. Joseph's also travel to St. Paul's to study Irish at this level. The AS/A2 course consists of grammar, language and literature study.  The students study Irish short films and the drama 'Breithiúnas' at A2 level.
Extra-Curricular Activities
St. Paul's has been recognised as centre of excellence in the use of spoken Irish. The school was awarded winning school in the GLEO (Gaeilge Labhartha san Earnáil Oideachais) competition in 2010.  St. Paul's students regularly participate in the Féile Scoildrámaíochta competition and won an Ulster title in 2010.  A full range of events are organised during Seachtain na Gaeilge every year which range from careers events for our senior students to a céilí for the whole community.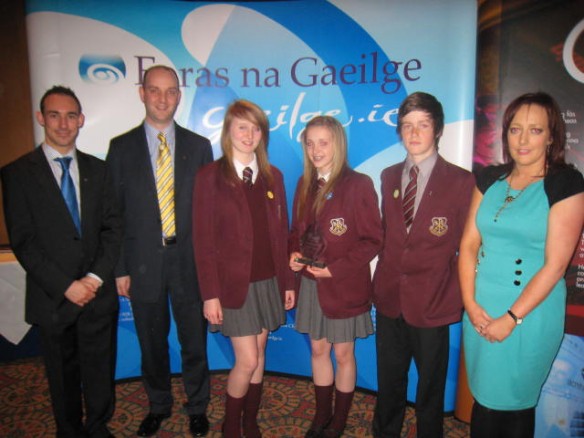 Staff and students from Ardscoil Naomh Pól travelled to Dublin to receive the All-Ireland GLEO award for Irish language.
_
Students at St Paul's show how creative they can be with the word 'Fáilte'.