Spanish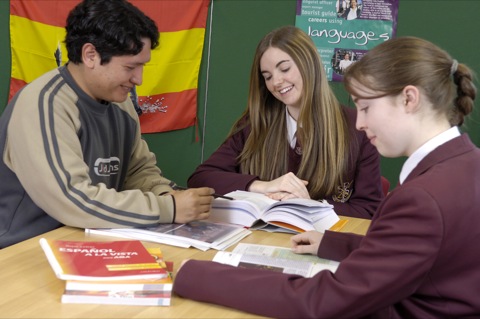 Departmental Staff
Head of Department:
Mrs N Murray

_

Miss L Mulholland
Curriculum
Key Stage 3 (Years 8,9 & 10)
About Me - (Personal Details –name/age/where you live/what you look like/personality)
My Family
My Home
My School
The colours
Days/Months/Seasons
Weather
In the shop
Traveling
Directions
In the café
Cultural Project (3 Weeks- ICT CCS Assessment piece)
Numbers
Some time is allocated on the programme of study to facilitate a language clinic at the end of each term. This time is used to revise work that students may have difficulty with or to help pupils with areas they have missed through absence.
Relevant grammar points are taught throughout the topic areas where they naturally occur.
GCSE (Years 11 & 12)
For both GCSE and A Level Spanish we follow the AQA specification as we believe it to be a well balanced and interesting course.
The GCSE course consists of
Unit 1: Listening Examination – 20%
Unit 2: Reading Examination – 20%
Unit 3: Speaking Controlled Assessment – 30%
(Internally assessed)
Two tasks submitted for moderation Spanish
Unit 4: Writing Controlled Assessment – 30%
(Externally assessed)
Two tasks submitted for Marking
Listening and Reading are tiered; candidates can enter for either Foundation or Higher Tier in any available series. Speaking and Writing are untiered.
Below is an overview of the subject content
Lifestyle
Health
1. Healthy and unhealthy lifestyles and their Consequences
Relationships and Choices
1. Relationships with family and friends
2. Future plans regarding: marriage/partnership
3. Social issues and equality
Free Time and the Media
1. Free time activities
2. Shopping, money, fashion and trends
3. Advantages and disadvantages of new technology
Holidays
1. Plans, preferences, experiences
2. What to see and getting around
Home and Local Area
 1. Special occasions celebrated in the home
2. Home, town, neighbourhood and region, where it is and what it is like
Environment
1. Current problems facing the planet
2. Being environmentally friendly within the home and local area
 Work and Education
1. What school/college is like
2. Pressures and problems
Current and Future Jobs
1. Looking for and getting a job
2. Advantages and disadvantages of different jobs.
A Level (Years 13 & 14)
AS Outline
The AS course covers:
Media: TV, advertising and communication technology
Popular culture: cinema, music and fashion/trends
Healthy living/lifestyle: sport/exercise, health and well-being and holidays
Family/relationships: relationships within the family, friendships and marriage/partnerships.
The AS specification has 2 units:
Unit 1: Listening, Reading and Writing – 70% of AS, 35% of A2
Unit 2: Speaking Test- 30% of AS, 15% of A2
A2 Outline
The A2 course covers:
Environment: pollution, energy and protecting the planet
The multi-cultural society: immigration, integration and racism
Contemporary social issues: wealth and poverty, law and order and the impact of scientific and technological progress
Cultural topic: the study of a target language speaking region/community or the study of a period of 20th century history from a target language-speaking country/community or the study of a novelist/dramatist/poet from a target language-speaking country/community or the study of a director/architect/musician/painter from a target language-speaking country/ community.
The A2 specification has 2 units:
Unit 3: Listening, Reading and Writing
Unit 4: Speaking Test.
Information
Cultural Celebrations and Events
Every year we celebrate the European International Day of Languages in the school by organising various competitions, displays and events to highlight cultural aspects of the target language countries as well as teaching pupils key phrases in a variety of European languages.
As part of our annual Diversity Week celebrations students will explore Spanish culinary traditions, Christmas customs and Spanish song and dance. This cultural extravaganza is always a popular event amongst students.
The department has in the past organised educational visits to Barcelona where students visit a range of historically and culturally important sites such as the world famous Sagrada Familia, The Picasso Museum and Parc Guell. Our sporting pupils particularly look forward to the visit to the Barcelona Nou Camp.
In the past we have also been involved with a number of other schools in N. Ireland as part of an exchange programme to Granada. April 2011 saw seven of St Paul's A' Level Spanish students travel to Granada for a ten day exchange visit. As part of the programme they attended classes in school and visited many attractions in and around Granada, including the Sierra Nevada and the world famous Alhambra, all of which was extremely beneficial and enjoyable for all involved.
Spanish has become a popular language within the school. Our pupils find it a very useful language to have as many of them regularly travel to Spanish speaking countries on holidays, indeed an increasing number have holiday homes in Spain. Students also have a greater awareness that Spanish as one of the most widely spoken languages in the world is a valuable asset to them. By opting to study Spanish pupils are potentially opening up opportunities for study abroad as well as enhancing their future career prospects on an international level.
Language provision in Key stage 3:
Students in Year 8 have two periods of Spanish, French and Irish each week. At the end of their first year pupils will have sampled all 3 languages and will be able to make an informed choice as to which two languages they would like to continue to study in Years 9 and 10. Students in Years 9 and 10 will have 3 periods of Spanish each week.
In Year 8 the main emphasis is on oral communication and students are encouraged to practice their oral work and perfect their pronunciation both in class and at home using a variety of interactive activities and CD's specifically designed within the department to meet their individual needs. Within the department we use a wide range of on-line resources to enhance language learning- these include:
1. Oscail 24/7 (School based website to aid learning both within and outside of the classroom)
2. Yacapaca (a range of on-line activities for assessing all year groups and ability ranges)
3. Babelzone (games/songs and quizzes to introduce fun language learning activities)
4. Español Extra (a wide range of resources both for language learning, cultural awareness and assisting A Level literature study)
5. Authentik (on-line resources for both GCSE and A Level students)
6. Kerboodle (this site complements course books used with both GCSE and A Level groups. It contains an extensive menu of activities in all key skill areas.
Click below for more information on why to choose Spanish for A Level