Winner of the Carnegie Medal 2013

Narrated against the backdrop of a ruthless regime determined to beat its enemies in the race to the moon, MAGGOT MOON is the astonishing new novel from award-winning author Sally Gardner. When his best friend Hector is suddenly taken away, Standish Treadwell realises that it is up to him, his grandfather and a small band of rebels to confront and defeat the ever-present oppressive forces of the Motherland. Utterly original and stunning, it is impossible not to be moved by MAGGOT MOON's powerful story and the unforgettable heroism of Standish.

---

 

The CILIP Carnegie Medal 2013 shortlist in full:

The Weight of Water by Sarah Crossan, Bloomsbury
A Greyhound of a Girl by Roddy Doyle, Marion Lloyd Books
Maggot Moon by Sally Gardner, Hot Key Books
In Darkness by Nick Lake, Bloomsbury
Wonder by R.J. Palacio, Bodley Head
Midwinterblood by Marcus Sedgwick, Indigo
A Boy and a Bear in a Boat by Dave Shelton, David Fickling Books
Code Name Verity by Elizabeth Wein, Electric Monkey

Library Sporting Heroes Art Competition Winners!
Year 8             Bookmark
1st                    Aoibheann Murphy       08/91               Ciaron O'Hanlon
2rd                    Dean Lennon                  08/27               Motorcross
3nd                  Wikoria Snopek               08/57               Dancing
HC                   Daniel O'Shea                   08/78                Basketball
HC                   Sean Toner                   08/27               Macrory Cup
HC                   Maeve McShane          08/27               St Paul's Teams
HC                   Laura Kelly                  08/57               Ice Dancing
HC                   Conor McCaffery         08/70               Olympics
Year 9             Book Cover
1st                    Orlaith McDonnell        09/93               Steven McDonnell
2nd                    Ciaran Smyth                09/35               Thriller in Manila
3rd                    Aimee Brady                09/93               Lester Piggot Jockey
HC                   Shane Magill                 09/18               Namaja Vidic
HC                   Thomas Lindsay         09/18                 Roy Keane Man Utd
HC                   Dara McAteer              09/93               Cian O'Connor Showjumper
Year 10           Poster
1st                    Daniela Janikova           10/29               Usain Bolt Athletics
Nicole McGuinness      10/47               Ellie Simmonds
2nd                    Cathal Murphy          10/29               Ryan Cinnamond
Caolan Smith                10/47               Van Persie
3rd                    Tara Clarke                  10/29               Katie Taylor Boxing
Ciaran Gribben               10/47               BennyCoulterCounty Down
HC                   Conor Hughes              10/29               Boxing: Muhammad Ali
HC                   Kerrie Fegan                10/29               Stephen McDonnell Armagh
World Book Day
Library Art Competition 
Draw your favourite Sporting Hero and design a new bookmark, book cover or poster encouraging pupils to READ!
Year 8 – Design a bookmark 
Year 9 – Design a book cover
Year 10 – Design a Library Poster
All entries should be given to Mrs Morgan before Friday 8th March
Prizes for 1st, 2nd and 3rd in each category
__________________________________________________________
Winner of the Open Day
Roald Dahl Quiz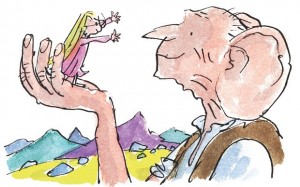 and the winner is
Sydney Marie Treanor  - St Peter's PS,  Cloughreagh
Wendy Drewett NI Book Award 2013
Christopher Edge,  Twelve Minutes to Midnight
Penelope Tredwell is the feisty thirteen-year-old orphan heiress of the bestselling magazine The Penny Dreadful. Her masterly tales of the macabre are gripping Victorian Britain, even if no one knows she's the real author. One day a letter she receives from the governor of the notorious Bedlam madhouse plunges her into an adventure more terrifying than anything she ever imagined. A thriller with a fast-paced cinematic style, Twelve Minutes to Midnight is an electrifying story from an exciting new author.
Lissa Evans,        Small Change for Stuart
Stuart Horten – ten years old and small for his age – moves to the dreary town ofBeeton, far away from all his friends. And then he meets his new next-door neighbours, the unbearable Kingley triplets, and things get even worse.
But in Beeton begins the strangest adventure of Stuart's life as he is swept up in quest to find his great-uncle's lost workshop – a workshop stuffed with trickery and magic. There are clues to follow and puzzles to solve, but what starts as fun ends up as danger, and Stuart begins to realize that he can't finish the task by himself…
R J Palacio,     Wonder
Wonder is the funny, sweet and incredibly moving story of Auggie Pullman. Born with a terrible facial abnormality, this shy, bright ten-year-old has been home-schooled by his parents for his whole life, in an attempt to protect him from the stares and cruelty of the outside world. Now, for the first time, Auggie is being sent to a real school – and he's dreading it. The thing is, Auggie's just an ordinary kid, with an extraordinary face. But can he convince his new classmates that he's just like them, underneath it all?
Through the voices of Auggie, his big sister Via, and his new friends Jack and Summer, Wonder follows Auggie's journey through his first year at Beecher Prep. Frank, powerful, warm and often heart-breaking, Wonder is a book you'll read in one sitting, pass on to others, and remember long after the final page.
Simon Mayo,   Itch
Meet Itch – an accidental, accident-prone hero. Science is his weapon. Elements are his gadgets. This is a hero with Geek Power!
Itchingham Lofte – known as Itch – is fourteen, and loves science – especially chemistry. He's also an element hunter: he's decided to collect all the elements in the periodic table. Which has some interesting and rather destructive results in his bedroom..Then, Itch makes a discovery. A new element, never seen before. At first no one believes him – but soon, someone hears about the strange new rock and wants it for himself. And Itch is in serious danger…
Sally Nicholls,    All Fall Down
When Isabel'sYorkshire village is devastated by the Black Death, it seems that the world is ending in horror and fear. But for the survivors of the terrible plague, a new and freer society will rise from the destruction of the feudal system that enslaved the family. A powerful historical novel from one of today's most exciting young writers.
Caroline Lawrence,  The Case of the Good Looking Corpse
P K Pinkerton is back in the second book of this whip-crackingly brilliant series set inAmerica's Wild West.
The death of sadistic desperado Whittlin Walt has created an opening for 'Chief of the Comstock Desperados'. Several young gunfighters are battling it out in the saloons and streets ofVirginia City, and against this backdrop of gunmen, gamblers and cowboys, P K Pinkerton, private eye, is having trouble drumming up business. Nobody seems to take a 12-year-old detective seriously!
Then a servant girl named Martha begs P K for help. She witnessed the murder of her mistress – a hurdy girl – and the killer knows it. Now he is after her. Martha gives P K a description of the killer and a cryptic clue, but then she disappears. Can P K solve the case and find Martha before the killer does?
Andrew Taylor,     The Adjusters
Welcome toNewton, the perfect town… Where kids get perfect grades… And everyone seems perfectly happy – all the time… Except newcomer Henry Ward isn't buying it. With a pair of misfit friends, he's determined to expose the dark secrets lurking behindNewton's bright facade. But asking questions aboutNewtonand the corporation that owns it can be dangerous. The doctors in the sinister medical centre on the hill have a procedure called "adjustment" for kids who don't fit in… And Henry and his friends have just gone to the top of the waiting list.
J D Sharpe,     Oliver Twisted
"Flesh," the woe-begotten moaned at Oliver, baring teeth which were ragged and black. "Flesh" came another moan, and he turned to see two more behind. They began to shuffle towards him, barefoot. The world according to Oliver Twisted is simple. Vampyres feed on the defenceless, orphans are sacrificed to hungry gods and if a woe-begotten catches your scent it will hunt you forever. On the advice of a corpse, Oliver flees his ghastly orphan life to seek his destiny in the dark streets of oldLondonTown, despite the perils of the woe-begotten zombie-infested journey. There he meets the shadowy Dodger, the evil old soul-stealer Fagin, and the menacing Bill Sikes, who is more beast than man. But will Oliver Twisted be the world's salvation, or its downfall?!
                      I'm a

Library

Book ….. 

……….Get me out of

HERE!!!
As the TV programme  "I'm a Celebrity" is now in full swing, I have displayed a selection of teenage fiction books alongside non-fiction titles with a jungle theme. Each book has been carefully chosen to compete in the race to find the book with the most votes. So get yourself into the library and rescue a book NOW!
This reading promotion is to encourage pupils to read books they might not pick themselves and to challenge their reading stamina. The books have been flying off the shelves as Year 8 pupils vote for their favourite. The winner of  "I'm a Library Book" will be announced on December 14th.
Kids Lit Quiz, Belfast
We had a great day out at the Kids Lit Quiz in Wellington College on Thursday 15th November. Our teams fought hard but in the end the winners were Methody College. We won the BEST MASCOT competition with Amy O'Hanlon's  inspired Hunger Games idea….Katniss Everdeen.
The Kids Literature Quiz (KLQ) is an annual literature competition for children aged 10 to 13. It puts readers onto the centre stage and lets them compete for fantastic prizes. The quiz has heats in New Zealand, the United Kingdom, South Africa, Canada, USA, China and Australia, with the winning teams qualifying for national and world finals. It is a major celebration of books and reading imported to the UK from New Zealand. It offers irresistible reading challenges, broadens awareness, is hugely motivating for boys and girls – and, best of all, is great fun.

Our Year 8 team…Katie Burns, Sarah Kilgallon, Fionntan Evans and Mairead Campbell with KLQ Quiz Master, Wayne Mills.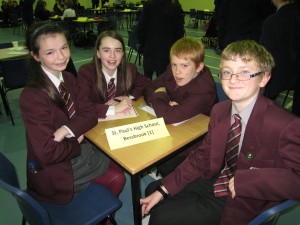 Our Year 9 team..Amy O'Hanlon, Aimee McAllister, Jay Murphy and Niall Campbell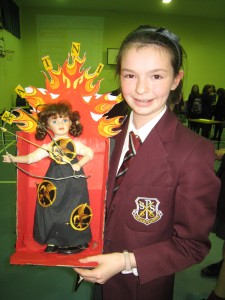 Amy O' Hanlon and her award winning design!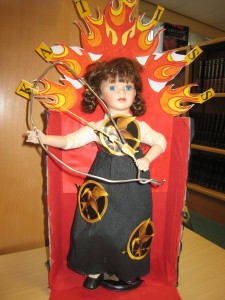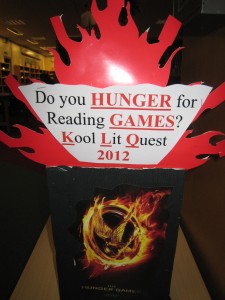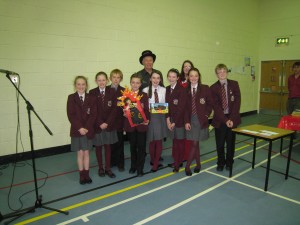 Both teams with Wayne Mills, Quiz Master, collecting their prize
Scholastic Book Fair was a great success!
It ran from Monday 12th November until Friday 16th November…
Thank You to all the pupils and staff who bought books and posters. We raised an impressive £748.00!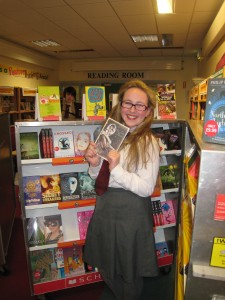 Library Halloween
 Poetry Competition 2012 

Winners!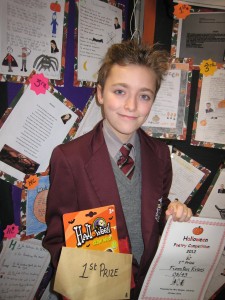 Year 8 Boys
1st        Fionntan Evans 08/43
2nd        Patrick Conlon 08/57
3rd        Dylan McAteer 08/80
            Year 8 Girls
1st        Chloe Quinn                 08/33
2nd        Katie Burns                  08/27
3rd        Kerri Boyle                  08/33
3rd        Sarah Trainor               08/91
Learning Support Centre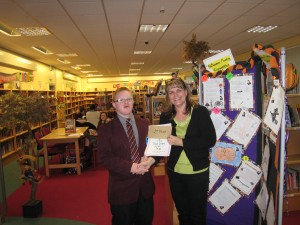 1st        Fergal Gregory     10/47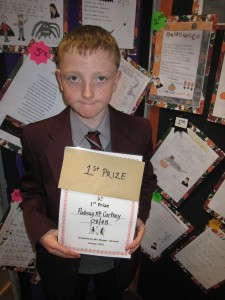 1st        Padraig McCartney      08/48
Highly Commended
Gareth O'Connor                      08/91
Maeve McShane                       08/27
Aoibheann Murphy                 08/91
Jordan Treanor                        08/78
Mairead Campbell                    08/91
Dionne McGivern                     08/49
Best Class Effort                   0857 and 0880
Star Readers 2012

At the final Year 8 assembly the following Star Readers received a certificate and a book token in recognition of their commitment to reading in St Paul's.
Year 8 Star Readers
Niall Campbell
Amy O'Hanlon
Amy McClatchey
Nathan McAlinden
Fergus Frizell
Siofra McGuinness
James Cameron
Mollie Cummins
Brooke Goodman
James Ferris
Morgan Thomas
Anna Blakely
Niall Wade-Doran
Conor Murphy
Dylan McNally
Samuel McShane
Cliodhna Meehan
Lee Turley 
Outstanding Reader of the Year
Joseph Heaney 10/96
Carnegie Medal Winner 2012
The winner of this year's Carnegie Medal is………….
"A Monster Calls" by Patrick Ness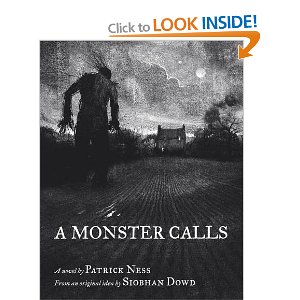 The monster showed up just after midnight. As they do. But it isn't the monster Conor's been expecting. He's been expecting the one from his nightmare, the one he's had nearly every night since his mother started her treatments, the one with the darkness and the wind and the screaming… The monster in his back garden, though, this monster is something different. Something ancient, something wild. And it wants the most dangerous thing of all from Conor. It wants the truth. Costa Award winner Patrick Ness spins a tale from the final idea of much-loved Carnegie Medal winner Siobhan Dowd, whose premature death from cancer prevented her from writing it herself. Darkly mischievous and painfully funny, A Monster Calls is an extraordinarily moving novel of coming to terms with loss from two of our finest writers for young adults.
NI Drewett Book Award 2012
And the winner is………………………….
Gangsta Granny  by David Walliams

Library Easter Hamper Winners!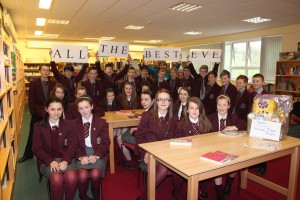 Class 08/38 with the pupil hamper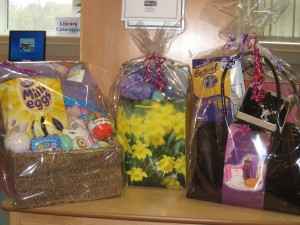 The Library Easter Hampers were won by Aislinn Millar 10/47, Mrs Bronagh Nugent, Classroom Assistant and Mrs Bronagh McArdle, Maths Department.
A cheque for £300 was donated to Clic Sargent (Children Living with Cancer) and a cheque for £300 was given to a special young teenager to help with her recovery.

I would like to thank all the pupils and staff of St Paul's for their support with this raffle. We can all take hope that the money raised will make a small difference to children facing the trauma of living with cancer.
CILIP Carnegie Shortlist 2012
Announced 27th March 2012

David Almond
MY NAME IS MINA
Hodder (9+)
ISBN: 9780340997253
Lissa Evans                           
SMALL CHANGE FOR STUART
Doubleday (8+)
ISBN: 9780385618007
Sonya Hartnett   
THE MIDNIGHT ZOO
Walker (9+)
ISBN: 9781406331493
Ali Lewis   
EVERYBODY JAM
Andersen (12+)
ISBN: 9781849392488
Andy Mulligan  
TRASH
David Fickling (12+)
ISBN: 9780385619011
Patrick Ness
A MONSTER CALLS
Walker (9+)
ISBN: 9781406311525
Annabel Pitcher
MY SISTER LIVES ON THE MANTELPIECE
Orion (10+)
ISBN: 9781444001839
Ruta Septys
BETWEEN SHADES OF GREY
Puffin (12+)
ISBN: 9780141335889
World Book Day 2012
Thursday 1st March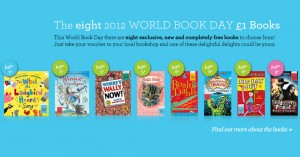 There are eight books that you can exchange your £1 book token for in any bookshop. They are:
Roald Dahl's Fantabulous Facts
How To Train Your Dragon…The Day of the Dreader by C Cowell
Big Day Out by Jacqueline Wilson
Skulduggery Pleasant: The End of The World  by Derek Landy
and for your younger brothers and sisters…..
Where's Wally Now!
Magic Molly
What the Ladybird Heard Song
Winnie Flies Again
Contact the Library for a look at the Scholastic Book Club Leaflet and use your voucher to get £1 of any book…..
Open Day Library Quiz!
The winners of the Library Quiz at the recent Open Day are;
Eryn Small                St Joseph's PS, Bessbrook
Ryan Gallagher      Dromintee PS
James Tumilty       St Peter's PS, Cloughrea
Oisin Coffey            St Malachy's PS, Camlough
Congratulations to all our winners and prizes will be sent in the post to your school this week.
Book Fair Competition Winners Announced!

 Draw a character from the past (Horrible Histories Competition)
The winner is Niall McCrink  from 08/03  who wins a  £20 voucher to spend at the Book Fair. His winning entry was a drawing of a Spartan Warrior.
The following pupils were highly commended and will each receive a £5 voucher to spend at the Book Fair.  Chloe Murphy 09/92, James McLoughlin 08/045, Martin Hillen 10/97 and Reda Martinonyte 08/45.
Design a new chocolate (Cathy Cassidy Competition)

The winner is Orla Garvey from 08/18 who wins a £20 voucher to spend at the Book Fair. Her winning entry was a chocolate called Shock Choc!
The following pupils were highly commended and will each receive a £5 voucher to spend at the Book Fair. Chloe Doran 09/94, Aoife McCabe 10/97, Cliona Brown 08/34, Aoibheann Rafferty 08/18
N.I. Drewett Book Award 2012
The shortlist has been announced!
Paul Dowswell          Sektion 20
Charlie Fletcher      Far Rockaway
Eva Ibbotson           One Dog and His Boy
Barbara Mitchelhill       Run Rabbit Run
Chris Morphew         Arrival
Ali Sparkes               A Life and Death Job
David Walliams      Gansta Granny
Chris Westwood     Ministry of Pandemonium
Come to the Scholastic Book Fair!

Update………….Closing Date for Competitions is Mon 28th November!
The Scholastic Book Fair will arrives in library on Mon 28th November for one week. There will be lots of great books, posters and stationery available to buy. For every book bought buy a pupil, the library will receive a free book!
Scholastic will be running two competitions in conjunction with the Book Fair. The first is to design a chocolate, describe its filling and give it a name.  The second is to draw a character from the past …like the Horrible Histories characters. The winner of each competition will receive a £25 voucher to spend at the book fair. All entries will be sent on to Scholastic to be entered into the regional heats of the competitions and prizes include a Nintendo DS and visits from author Cathy Cassidy and illustrator of Horrible Histories, Martin Brown. So why not come along and get some early Christmas reading and support your school library.
Kids Lit Quiz 2011
Congratulations to the St Paul's Quiz Team who came joint 5th out of 24 teams in the Kids Lit Quiz in Wellington College, Belfast on 10th November. The members of the team were Niall Campbell 08/38, Amy O'Hanlon 08/38, Meabh Morgan 09/65 and Michael McKenna 10/100. A great day out and a great result. We are looking forward to moving up the rankings next year! Good luck to the winners, Friends School, Lisburn who compete in the UK finals in Warwick next month.
Year 9
"Get Caught Reading" 
Library Photographic Competition
I am pleased to announce the winner of the "Get Caught Reading" Photo Competition is Kieran Craven 09/92.
 The Winning Photo!
Year 8
Halloween Poetry Competition
Winners!

1st  Oisin Larkin     08/35,    2nd Grainne Cromie 08/93,
Joint 3rd Morgan Egan 08/45,  Joint 3rd Alannah O'Grady 08/03
Highly Commended
Ciaran Gribben 08/048   Aoife Mullholland 08/25
Rose Duffy 08/38, Nathan McAlinden 08/25, Michaela O'Hanlon 08/35
Niall Campbell 08/38, Dillon Rice 08/93, Ellen Marron 08/35
 Class Prize goes to 08/025
HALLOWEEN WEBCAST

Join thousands of children in schools and libraries for a spooky journey through the history of horror with author,
…….. Charlie Higson

On Monday 31st October 2pm – 2.45pm
Register now at www.charliehigsonvirtuallylive.co.uk
Calling all Year 8 Pupils
Library Halloween
 Poetry Competition 2011

 Write a poem on a SPOOKY theme and decorate with pictures!
                                    It must be your own original work!
Give your entry to Mrs Morgan, Librarian before Friday 21st October.
 Prizes for 1st,2nd and 3rd
Attention all Year 8 & 9 Pupils!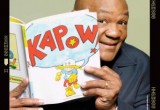 "Get Caught Reading"
Years 8 and Year 9 Photographic Competition
 Take a photograph of yourself  Reading in an unusual place
and hand it in to Mrs Morgan, Librarian
or email me at
mmorgan018@stpauls.bessbrook.ni.sch.uk
 Closing Date for Photos is     ***Friday 21st Oct 2011***
Carnegie Medal Winner is…………..
Monsters of Men

by Patrick Ness

The final installment  to the multiple award-winning trilogy, Chaos Walking. "War," says the Mayor. "At last."Three armies march on New Prentisstown, each one intent on destroying the others.Todd and Viola are caught in the middle, with no chance of escape.As the battles commence, how can they hope to stop the fighting? How can there ever be peace when they're so hopelessly outnumbered? And if war makes monsters of men, what terrible choices await?But then a third voice breaks into the battle, one bent on revenge…The electrifying finale to the award-winning Chaos Walking trilogy, Monsters of Men is a heart-stopping novel about power, survival, and the devastating realities of war.            (excerpt from Amazon.co.uk) Other books in this trilogy are:   The Ask and the Answer                 Book 1 The Knife of Never Letting Go      Book 2
The Shortlisted Books
The Defying Pepper Roux by Geraldine McCaughrean Monsters of Men  by Patrick Ness White Crow by Marcus Sedgwick The Bride's Farewell by Meg Roscoff Prisoner of the Inquistion by Theresa Breslin Out of the Shadows by Jason Wallace Against diverse settings that range from 15th century Spain, 19th century England and 19th century France, to Zimbabwe in the 1980s, 18thcentury England, and an imaginary planet, light years away from Earth, the six shortlisted books consider the qualities that unify us as human beings, despite the longest of odds and the fiercest of enmities. By showing how entrenched beliefs can be overturned and moral dilemmas resolved, they demonstrate the value of integrity, and generate a sense of hope through rich story-telling of outstanding quality.
The Graveyard Book by Neil Gaiman wins the Carnegie Medal for 2010!
Mr Dominic Bradley, MLA donates Hansards to the Michael Warde Library  
On Friday 4th June Mr Dominic Bradley MLA visited the Michael Warde Library in St Paul's High School to present a set of linen-bound Hansard Volumes containing the proceedings of the NI Assembly to the former Principal Mr Michael Warde and the librarian, Mrs Michelle Morgan.Mr Oliver Mooney, Principal, thanked Mr Bradley who was both a pupil and a teacher at the school for this gift and said it would be a welcome addition to the current library stock.Also attending the event was Mrs Anne Mallon, Vice Principal and Mr Daithi Murray, Director of ICT.

Design A School Mascot Winner Announced!
The winner of the "Design a School Mascot" Competition is Siofra McNulty 08/006. Her winning design was "Paulie The Parrot". Congratulations Siofra and we look forward to seeing your design come to life later in the year!   

Drewett NI Book Award  2010                

24/03/10
And the winner is…..
Skulduggery Pleasant: The Faceless Ones

On Wednesday 24th March pupils from all over Northern Ireland travelled to the Odyssey in Belfast to the NI Book Awards, The Drewett Prize.  Four pupils from St Paul's accompnied the Librarian, Mrs Morgan and to the ceremony. Twelve books were up for the award and pupils have been voting over the past few days for their favourite book. The most popular books in St Paul's have been Auslander by Paul Dowsell, The Graveyard Book by Neil Gaiman and Skulduggery Pleasant-The Faceless Ones by Derek Landy.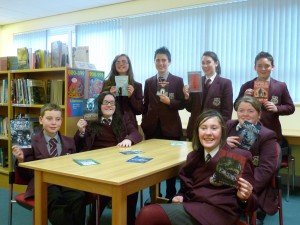 World Book Day  5th March      

10/3/2010
Pupils at St Paul's had a really enjoyable World Book Day. They each received a £1 book token to spend on one of the specially commissioned books by popular authors. www.worldbookday.com

School Open Day      30thJan 2/2/2010

The theme for the Library Open day Event was "Screen Reads". Our poll of Primary 7 pupils resulted in a narrow win for Book over Movie! With the popularity of films such as Lord of the Rings, Harry Potter and Twilight a whole new generation of readers has been born. Our senior students dressed up as book heroes and heroines including Arwen from Lord of the Rings, Dick Turpin and the Wicked Witch from the Wizard of Oz. Drewett NI Book Award 8/12/2009

Pupils who will read all twelve nominated books for the NI Drewett Book Award 2010
St Paul's pupils and staff are taking part in the Drewett Book Awards this year. It is the first time that a teenage book award will  be voted for by the people of Northern Ireland. The shortlist of the 12 titles can be found at www.nibookaward.org.uk . Here are the pupils taking part in reading all 12 books and voting in the awards. Kids Literature Quiz9/11/2009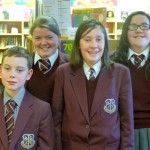 Congratulations to our quiz team who performed well at the recent Kids Lit Quiz in Wellington College. Our team members were Anastasia Ni Riabhaigh 09/30, Aiobheann Miller 09/30, Doireann Hollywood 09/21 and Michael McKenna 08/100. The team won an indivual round and were able to schoose free books from the Book Fair and came second in the mascot competition with the Cat in the Hat.