English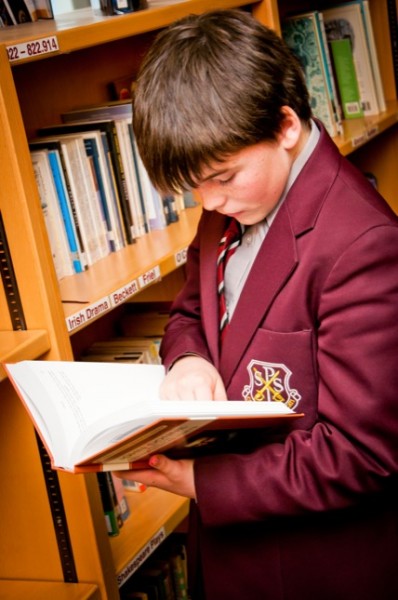 _
Departmental Staff
_
Head of Department: Mrs S McKenna
Mrs T Magee
Mrs N O'Rourke
Miss G McClinton
Ms K McShane
Mrs M Mone
Mrs G Campbell
Mrs K McCormick
Mrs J Simpson
Mr C O'Hare
Information
Teachers in the English Department teach the full ability range, from children with literacy difficulties in one or more of the four 'language modes' of Talking and Listening, Reading and Writing, to pupils preparing for third-level education following an A Level English Literature course.
In its aims the English Department reflects this whole school vision by seeking:
to develop confidence and competence in the four language modes – Talking and Listening, Reading and Writing and to use these four modes as channels for thinking:
by providing pupils with opportunities to develop effective use of language for functional and creative expression and response;
by promoting understanding of the nature of communication in different contexts;
by providing opportunities for pupils to become discerning users of language and to appreciate literature;
by enabling pupils to shape and deconstruct messages in print, mass media and information technologies.
to meet, through our policies and teaching, the requirements of the Northern Ireland Curriculum.
to encourage each pupil to become an independent learner and realise his/her full potential.
to nurture self-respect and self-confidence and develop attitudes of tolerance, understanding, mutual respect, co-operation, empathy, resourcefulness, adaptability and objectivity.
to foster in pupils a delight in reading which will remain with them through life.
to empower pupils, through an active engagement with language, to develop as individuals, as contributors to society and to the economy and environment, encouraging them to achieve their potential and make informed and responsible decisions throughout their lives.
_
Curriculum
Key Stage 3 (Years 8, 9 & 10)
Within Key Stage 3 the English Department is delivering English and Media Education as part of the Northern Ireland Curriculum.
Addressing language and literacy the Key Stage 3 schemes of work provide opportunities for young people to develop effective communication skills in relevant contexts.
We encourage pupils to develop an understanding of how language works, and the richness of language and literature in any culture as a means of communication and creative expression.
At the heart of the curriculum offered is an emphasis on the development of skills and capabilities for life-long learning and for contributing effectively to society. The ability to think both critically and creatively and to develop personal and inter-personal skills and dispositions is essential for functioning effectively in a changing world. We support the development of Thinking Skills and Personal Capabilities and the cross-curricular skills of Communication, Using Mathematics and Using ICT.
GCSE (Years 11 & 12)
Within Key Stage 4 the English Department continues to encourage pupil development in the four language modes of Talking, Listening, Reading and Writing Skills. Pupils are encouraged to develop their skills in reading fiction and non-fiction and in writing to argue, persuade and advise and to explore, imagine and entertain.
We deliver the CCEA GCSE English Language and CCEA GCSE English Literature specifications.
CCEA: GCSE English Language
Two written papers – each 30%
Talking and Listening Assessments – 20% Three oral assessments will be used to make a final judgement.
Written Assignments – 20%  There are four written assignments related to the study of prose, poetry and drama (including at least one Shakespeareplay).
CCEA GCSE English Literature
A number of pupils will study GCSE English Literature.  This is a 2 year course developing critical reading skills and a love of literature. Opportunities for drama and visits to the theatre are offered to pupils.
A Level (Year 13 & 14)
_
A Level English Literature gives pupils the opportunity to study not only a wide range of literature written by home grown Irish writers but also literature from outside the UK and literature in translation.
This course give pupils the opportunity to explore an important part of their own cultural heritage. Moreover with the wide range of novels, poems and plays they will study by both Irish and international writers, they will not only deepen their understanding of their own history and society but also gain an insight into others. Through independent and critical reading they will develop their interest and enjoyment in literary studies and become an accomplished, discerning reader.
To obtain the full A Level qualification in English Literature you will need to complete both the AS and A2 units. We deliver the CCEA Revised specification for GCE English Literature.
Studying this course, pupils undertake 2 units at AS and a further 2 units at A2. For GCE English Literature we have selected a wide range of literary texts and themes which you will study while developing your ability to critically analyse and explore various aspects of literature.
AS 
Drama – Critical response to Shakespeare and a creative/personal response to a 20th Century dramatist
Comparative study of Poetry written after 1800
Prose 1800-1945
A2
Poetry 1300-1800 – Closed book
Drama – Comparing and contrasting a set of paired plays
Theme-based prose – The outsider
Study for examination of:
One Paper 70%
Prose (closed book)
Modern Drama (open book)
Poetry Anthology (open book)
Coursework:  30%
3 written assignments
A            Response to poetry (post 1914)
B            Response to Shakespeare
C            Response to prose (pre 1914)
Support materials can be view here.
Overview of the English Department can be viewed here.