Choir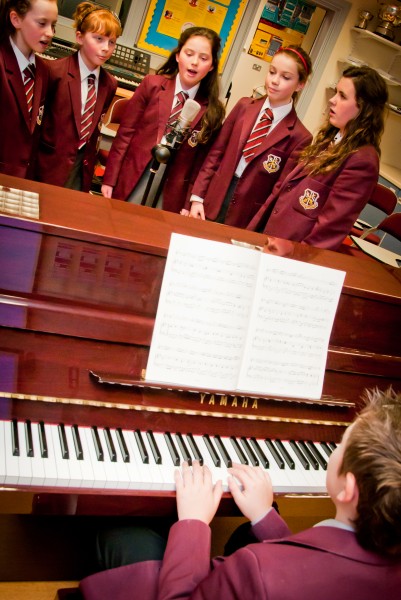 Choral work is a very strong tradition in the school.  There are now three choirs: Junior Choir, Senior Choir and Mixed Voice Choir.
Junior Choir meets every Wednesday and Thursday at lunch time.
Mixed Voice choir meets every Tuesday from 3.20 – 4.15
Senior Choir meets every Wednesday from 3.20 – 4.15.
There are 55 members in the Junior choir, 45 members in the Senior choir and 45 in the Mixed Voice choir.  The music selected for each choir is of a technically difficult standard, for both competition and liturgical events.
The choirs participate in feisanna and have been very successful in recent years.  Last year, the Senior choir participated in Warrenpoint feis, winning the Hairflair Perpetual Challenge Cup for Secondary School Choir and the James Murphy Memorial Cup for Hymn singing.  At Newry feis they also won the Under 18 Hymn singing section and the Mixed Voice choir won the Secondary School choir competition.  As well as this, they also won the Harry Heather Silver Salver for the choir with the highest overall marks in the feis.
The mixed choir entered an RTE choir competition this September and were one of 20 choirs selected out of 80 to perform in the regional heats.  The heats were televised on RTE.  They gave an outstanding performance, but were narrowly beaten by Methodist College, Belfast.
The Senior choir also sing at various school liturgies and fund-raising events.  The annual Year 10 retreat in Armagh Cathedral is an important event for the school choir.  The Spring Concert gives the choir an opportunity to showcase all of their hard work to an audience.