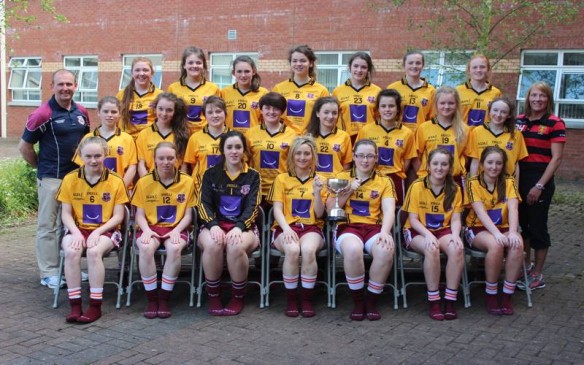 St Paul's U16 Ladies reach All-Ireland Final!
Congratulations to St Paul's Under 16 Ladies who defeated Loreto Secondary School, Fermoy, in the Semi-Final of the All-Ireland by a scoreline of 2-11 – 3-07.
Played in Johnstown, County Roscommon, Loreto Secondary School started the better of the two teams as they scored a goal and a point in the opening exchanges to lead by four points with ten minutes gone.
However, St Paul's responded from this with Aimee Mackin kicking two points in quick succession to get St Paul's on the scoresheet.
The rest of the first half was tightly matched, but it was Loreto Secondary who went in leading at half time by a scoreline of 2-03 – 1-03.
The second half was again very tightly matched, and half way through the second half St Paul's took the lead for the first time of the match and lead by one point.
Further points by St Paul's ladies put them four points in front, but a late goal in injury time from Loreto Fermoy reduced the deficit to only one point, although this was not enough as St Paul's held on to win the game.
Final score: St Paul's, Bessbrook 2-11   Loreto Secondary School, Fermoy 3-07
Under 16 Ladies are Ulster Champions!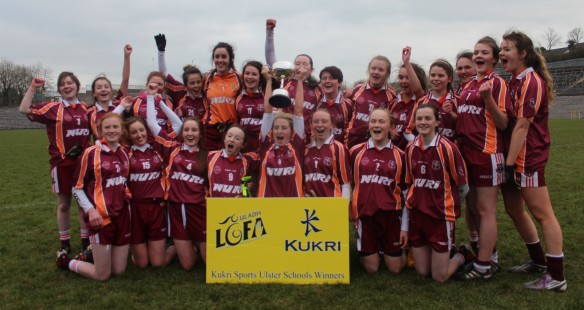 Pictured is the St Paul's Under 16 Ladies team celebrating winning the Kukri PPS Under 16A Ulster Final.
St Paul's Under 16 Ladies are Ulster champions after they defeated Loreto Grammar School, Omagh, in a pulsating U16A Ulster Final.
This was the first year St Paul's entered the 'A' competition and the ladies will now represent Ulster in an All-Ireland Semi Final within the next few weeks.
Played at St Tiernach's Park, Clones, St Paul's opened the scoring as corner forward Aimée Mackin found space to slot the ball over the bar.
However, Loreto Grammar soon took control of the first half as they scored 2-04 without reply to storm into a nine-point lead in the opening fifteen minutes.
St Paul's couldn't afford to go further behind and got back into the game as joint-captain Anna Carr reacted fastest to a loose ball and drove it into the bottom corner to get St Paul's going again. Aimée Mackin quickly followed up from this by adding a further two points to put four points between the sides.
Loreto Grammar responded with a point of their own, but a long range point from Maria Murphy and another two points from Aimée Mackin meant that St Paul's went in at half time trailing by three points and still every chance of winning the game.
Half time: St Paul's, Bessbrook 1-05 Loreto Grammar, Omagh 2-05
The second half got underway with Loreto Grammar getting the first point to extend their lead to four points, however, Aimée Mackin started the second half as she finished the first, and she scored 1-03 without reply to give St Paul's a two point lead.
Loreto Grammar again responded from this with three points of their own to again give themselves the lead, but Blaithín Mackin found the back of the net to put St Paul's back into the driving seat with a two point lead but back came Loreto one again with another two points of their own to bring the sides level for the fourth time in the match.
The game was beginning to become very tense and neither team could afford to make mistakes, but it was again Aimée Mackin that scored a point to put St Paul's back in front and it was her sister Blaithín who got her second goal of the match to put more daylight between the teams.
Loreto Grammar had a tremendous attitude throughout the game and they did not lie down, putting severe pressure on St Paul's in the last five minutes of the game. They scored two points to reduce the deficit to two points, but the St Paul's defence did their job brilliantly and held on to become Ulster Champions!
Full time: St Paul's, Bessbrook 4-09 Loreto Grammar, Omagh 2-13
See below for video highlights from the final:
As the colours of both schools jerseys clashed, both teams had to change for the game and St Paul's wore Armagh Ladies' jerseys as they were representing Armagh in Ulster.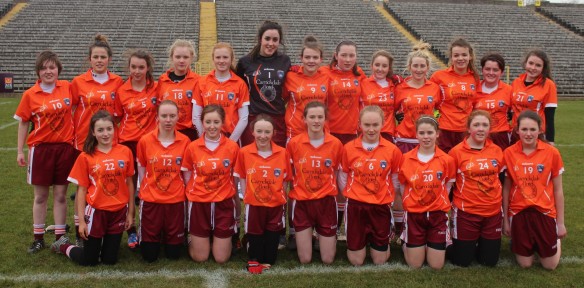 Pictured above is the St Paul's team that played Loreto Grammar in the 'Kukri PPS U16A Final'.
See below for photos from the game: